Key information
You will find lots of information about the events below, but if you have any questions please email us on: [email protected].
The popular Tuesday evening Aquathlons are held at Trafford Water Sports Centre, Sale Water Park. This is a fantastic race venue with an 800m 2-lap swim and 5km 2-lap run course (Juniors complete half the distance) – keeping it simple for optimal race conditions!
The dates for the 2023 Aquathlons are:
Tuesday 23 May 2023
Tuesday 13 June 2023
Tuesday 18 July 2023
Tuesday 15 August 2023
With a race start time of 6:45pm and 6:40pm for juniors, these events make a perfect mid-week hit-out!
Entry Details
Start Time: 18:45pm
Venue: Sale Water Park – M33 2LX
Cost Per Race:
Adults £19 (£15 for BTF Members)
TriStar 3/Youths/Juniors £8 (£7 for BTF Members)
We also have a special offer, all four races for for the price of three!
Event Details
The events are being held at Sale Water Park, Rifle Road, Sale, Cheshire, M33 2LX
Events will take place alongside the usual open water swimming sessions.
Parking
Parking is available at the venue outside the boathouse restaurant
It is also a short walk from Sale Water Park Metrolink stop.
Provisional Event Programme
1800 hrs – Registration open @ Trafford Watersports Centre (at the venue)
1815 hrs – Transition open
1835 hrs – Race briefing in transition
1845 hrs – Start of open race
Registration
Registration is open from 1800 hrs until 1835 hrs. At Registration, please ensure that you receive a race number & 4 safety pins if applicable.
BTF members must bring their up to date race licences or will be required to purchase a day licence. Non-BTF members will be issued with a day licence.
Swim Course
Seniors swim 2 laps of the 400m course (800m in total)
The swim course starts in deep water and is swum in an anti clockwise direction.
Please take care entering and exiting the water on the concrete ramp. Ensure you use the anti-slip matting.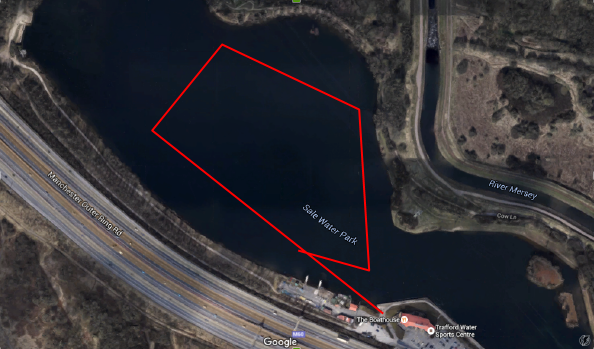 Transition
Transition is open from 1830 hrs
Transition is directly to the left of the swim exit, between the lake and the Watersports Centre
The surface is wooden decking
Transition will be a single line of numbered boxes against the fencing to the edge of the lake.
Transition is one way only – please see diagram at reception
All positions will be numbered
Only competitors will be allowed in transition

Run Course
Exit transition and follow the path around the lake anti clockwise.
Each lap is 2.5km
On the second lap competitors run past transition
The run course is a very simple and easy to follow
Seniors run 2 laps for 5km.
It is the responsibility of competitors to count their own laps.
At approximately 250m there are stepping stones across the stream. These may not be necessary to use, it will depend on the water level, but competitors must take care if / when using these. See below for the picture…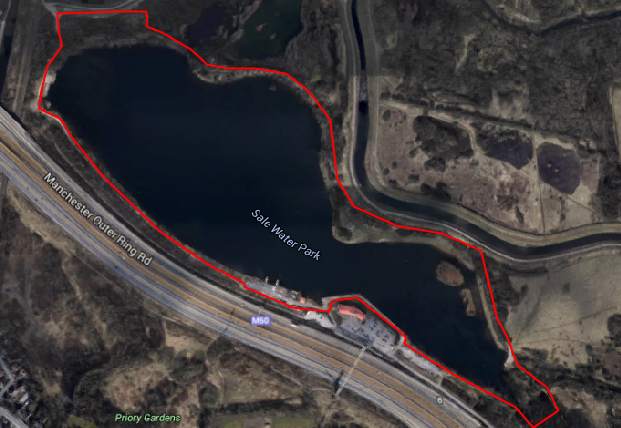 Stepping stones below.
It is anticipated that the water level may well be low enough not to have to use these, but should this be the case, competitors should take extra care when crossing the stepping stones, bearing in mind they are likely to be wet.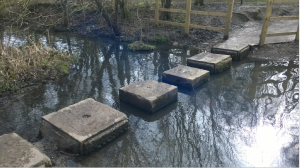 Rules
The event is conducted under the rules of the British Triathlon Federation, available at www.britishtriathlon.org.
In addition, competitors should please note:
The race briefing at 18.35 is compulsory for all competitors
Wetsuits for the swim are compulsory unless the water temperature exceeds 14º C. The water temperature will be posted at registration.
Swim hats must be worn at all times during the swim.
Race belts are permitted.
Do not alter or trim your race number in any way
Time penalties will be awarded for impeding other competitors. Please ensure that your wetsuit is placed in your plastic tub.
Please follow all instructions given by race marshals and officials.
Safety
Take care when entering/exiting the water.
Safety boats, and rescue kayaks will be on hand to assist where necessary.
Results
Results will be published online as soon after the event as possible.
Please do not ask the timekeepers for your time or placing whilst the race is in progress.